The story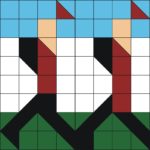 Soldiers
– has moved from the Battle Hill Cairn in preparation for the Battle of the Longwoods March 4, 1814.   . Watch the 
Royal Scots trailer by Crocodile
 Productions
War was a common part of George Ward's life in the late 18th and early part of the 19th century. It seemed the British were constantly at war with the Americans and French. George Ward joined the army at a young age and was a British Red Coat for most of his life.
During the War of 1812, it was required by government that every able-bodied man aged 16 to 60 serve in the local militia. The men had to provide their own weapons. The militia was responsible for homeland defense and protected their local areas.
The local militia were not well trained but quickly invented tactics better suited to their terrain. Local men used their knowledge of the land to fight the enemy in the Longwood's forest.  Their fighting style was modeled after the guerrilla warfare style used by native warriors. Many times these tactics resulted in fewer deaths to the militia unit.
George Ward was connected to the militia through his two eldest sons. At the age of 16, both sons enlisted in the local militia to defend the region from American encroachment.
Text by Rosemary Cranney, Ken Willis, and Rebecca Clark.
Sponsored by:
Mrs Betty Simpson, Woodgreen
Location
Soldiers
2415 Longwoods Rd, Wardsville, ON
Latitude : 42.67584 Longitude : -81.72768
See the barns on google maps