The story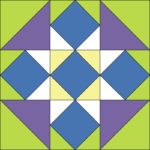 Is is hard to believe today that when settlement came to Chatham-Kent, this area was a heavily forested wilderness. In fact so dense were the trees that travel by river was the preferred mode of transportation. The sawtooth quilt pattern was chosen to represent wood and its importance in the early development of Chatham-Kent.
Trees were both a blessing and a curse to the early pioneers. The first urgent jobs of the settler were to use the trees to build a crude, temporary shelter and then to clear away as many trees as possible so that crops could be planted. Settlers had to be totally self-sufficient as the nearest large commercial centre was Fort Detroit. A pioneer's early fields were a combination of stumps and crops. Most of these people were Empire Loyalists who, being considered traitors, were forced to leave their homes and possessions in the United States. They came here with very basic necessities, quite often only what they could carry. A simple axe was the tool used for the task of felling trees. Try to imagine the size of trees which would have been untouched for centuries. A painting of a Buttonwood tree near Chatham in 1840 is described as having a circumference of 18 feet. Besides being an extremely strenuous and time consuming job it was also very dangerous. In the late 1790's Samuel Newkirk was killed by a falling tree and his widow with two young children was forced to find her way back to the Mohawk Valley.
But for early Chatham-Kent residents trees were also a invaluable resource. In the days before plastics and the wide availability of such materials as metal and glass, wood was used to make almost everything. Besides the obvious such as homes, animal shelters, furniture and fencing, less busy months were spent making tools of all kinds, kitchen utensils, dugout canoes,
rafts, sleds etc. Trees also produced fruits and nuts as well as sap for the much anticipated making of maple sugar which besides being a food sweetener was a source of extra income. The burning of wood provided not only fuel for warmth and cooking but ashes which could also be sold or saved for making lye and soap.
For the simple sake of survival grist mills were the first mills in a community but when a saw mill appeared it was a definite sign of progress. It meant that urgent needs had been met and now a community could work toward "refining" itself. In 1832 cabinet makers, Daniel Forsyth and William Dolsen built for Thomas Forsyth the first frame house in Chatham and in
1840 the Royal Exchange Hotel, described as an extensive frame structure was built on the southwest corner of King and Fifth Streets. Early saw mills usually appeared alongside gristmills and both were generally seasonal as they depended on water levels. By the 1840's
steam power had arrived as well as a circular saw which the Messrs. Baxter had installed in their mill. In 1848 Archie McKellar's mammoth steam saw mill is described as the marvel of its day.
As early as the late 1700's the entrepreneurial minds of politicians, settlers and businessmen saw the potential of CK's forests. Chatham was a ship building site from the time of Lt. Governor Simcoe's never completed navel ships through most of the 1800's when schooners then steamers were built to service Chatham's commercial shipping industry. Besides passengers and agricultural products such as wheat, much of what was shipped to ports on the Great Lakes and as far away as Britain, came from CK's forests. Some examples from 1844 were: 74 barrels of potash and 48,000 ft. of walnut timber and in the first six months of
1845, 750,000 barrel staves.
Besides those in the shipping industry, lumber made many other people wealthy throughout Chatham-Kent. In the 1850's the Ferguson family arrived from Scotland penniless.
Within a few years they had built a lumber business that became the backbone of Thamesville.
Their saw mills employed many and their clearing of the land brought farmers to the area. The family was community and politically minded, Robert Ferguson being M.P. Their bank offered loans and mortgages with unusually fair terms and their opera house served as Thamesville's community centre for years. Today Ferguson Park and two large Victorian homes, Millsite and Tecumseh Hall (Westover Treatment Centre in 2015) stand as reminders of their contributions to Thamesville.
While it did not make them rich, farmers often took advantage of slow winter months to earn extra income by cutting wood, some floating the logs down the Thames River to Chatham.
In the 1850's when the railroad arrived, cutting firewood for the steam engines provided extra revenue.
As the area progressed, CK's forests provided material for many projects. Corduroy (log) and later plank roads were constructed over low, swampy areas. In its early days when Chatham was jokingly called "Chatham in the mud" its residents welcomed the arrival of wooden sidewalks. Even Chatham's first sewers were boxes made of oak. As both Chatham and Canada evolved, CK continued to provide products made of wood well into the 20th century. From a simple saw mill grew the Chatham Manufacturing "Waggon Works" which
produced 3000 waggons a year, shipping them to every Canadian province and as far away as Jamaica. In addition the business shipped out 3,000,000 board feet of wood a year. In 1862 the owner Daniel Ross Van Allen exhibited at the World's Fair in London England examples, 12 ft. By 4 ft. Of a variety of Chatham-Kent's many species of wood. For this display he won a bronze medal, the highest prize. A large brick building on Grand Ave. east of Thames St. is all that remains today of a once thriving industry.
It would be easy to blame our predecessors for the demise of the area's forests and no doubt some wanton destruction did occur but for most, the gifts of the forest offered survival and the chance for a decent life. Today with our knowledge of the environment we know how important trees are for our survival and it is up to us to find a balance that works for both man and nature.
SOURCES: Romantic Kent by Victor Lauriston
The Valley of the Lower Thames by Fred Coyne Hamil
When Chatham Was Woods, Reminiscences of the Pioneers by John Rhodes
Location
Sawtooth
5620 Tecumseh Line, Pain Court, ON
Latitude : 42.34867 Longitude : -82.35194
See the barns on google maps