The story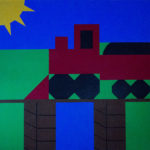 The sound of a train whistle whistling through the air was a well-known sound to all residents of St. George beginning in 1852. A trestle was built over Beaver Creek; the Great Western Railway ran about 1 kilometre south of the Village. The train system brought goods to the Village and carried passengers to and from their daily activities. The railroad figured prominently in St. George's history.
The largest accident in Brant County, in terms of lives lost, happened in St. George. On February 27, 1889, two rail cars fell off the rail bridge killing 11 people and injuring over 30. A broken tire on one of the engine wheels caused the rails to spread, and the first passenger car, a Pullman, and the dining room car went through the middle section of the bridge. The Pullman car, which contained most of the passengers, was thrown clear off the bridge, turning completely over and landing right side up. The dining car stood on end against a pier.
On October 18, 1916, a passenger train toppled off the rail bridge. Passenger service was discontinued in 1930's; freight service in the 1960's and the viaduct was dismantled in 1963.
Name of sponsor of Barn Quilt : Liz and David Monkhouse
Location
Railroad
5 Beverly St. W St George ON
Latitude : 43.2454 Longitude : -80.2542
See the barns on google maps