The story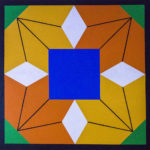 The Joseph Smith Memorial Garden was established in 1990 by the St George Garden Club. The garden was originally located on Beverley St beside the Bank of Montreal. The garden was named after Joseph Smith, an award-winning lily grower and hybridizer who lived in St George.
The original garden consisted of 35 raised beds hold 2500 plants. In 2010 the garden was moved to Lion's Elliott Field, at the west side of the Village. The current garden has more than 500 plants of 100 varieties of lilies.
The Annual Lilies in Bloom Festival is a popular attraction in early July. The lily is the king of flowers; it is very vivid and hardy, although the lily bloom is short-lived, when they do bloom they are magnificent!
The members of the St George Garden Club, plant and tend to the gardens. At the time of the Festival they sell potted lilies.
Name of sponsor of Barn Quilt : St George Water Shed
Location
Lilies
20 Church Ave, Saint George, ON
Latitude : 43.24518 Longitude : -80.25598
See the barns on google maps