The story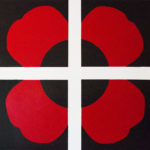 This quilt block is composed of a poppy behind a cross on a black background. The poppy and cross are both symbols of remembrance commonly associated with War Veterans and Remembrance Day. The colours chosen are also frequently connected with remembrance and war.
The Silver Cross in the centre of the white cross resembles the Memorial Cross, more often referred to as the Silver Cross. It was awarded to mothers and widows (next of kin) of Canadian soldiers who died on active duty or whose death was consequently attributed to such duty. Recent changes now allow Canadian Forces members to designate up to three Memorial Cross recipients
Many of the first settlers of St George were veterans of the War of 1812 who had received land grants in the area in return for their military service. During World War I, this tradition of military service continued with approximately 10% of the population of St George serving overseas, including several women serving as Nursing Sisters. Nineteen were killed in action and are memorialised on the cenotaph and on a plaque at the St George Memorial Hall. During World War II, even more citizens served. They are also memorialized on a second plaque at the Memorial Hall.
Name of sponsor of Barn Quilt : South Dumfries Historial Society
Location
Veterans
36 Main St S, Saint George, ON
Latitude : 43.24431 Longitude : -80.25275
See the barns on google maps