The story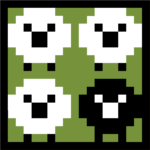 The Brien Family escaping the Irish potato famine in 1845 emigrated from Fermanagh County to Howard Township in Kent County. Considered one of the earlier of the settled families this surname now appears in many family trees in the area.
The early years of this farm saw sheep raised for utility which lead to the quest for a better breeding stock. Wool and meat kept many families warm and fed through the early settlement years.
Today this purebred sheep and cash crop farm can trace the family sheep history four generations with ribbons, trophies and news articles of record breaking successes, each generation contributing to the family heritage.
The sheep and lambs grazing in the pastures west of Ridgetown welcome visitors spring summer and fall and are kept indoors through the winter.
This whimsical barn quilt design will now greet visitors to the area in all seasons. The four sheep depicted are symbolic of the four generations and also represent the different breeds raised over those generations by the Brien family. The geometric shapes and colours in this original design adaptation are drawn from the farm paddock shapes, colours of spring and from the family's origin in the emerald isle. Its simple motif is playful and will be easily spotted and easily interpreted by travellers.
Name of sponsor of Barn Quilt : Brien Family
Location
Sheep in the Meadow
12454 Ridge Line, Ridgetown, ON N0P 2C0,
Latitude : 42.43226 Longitude : -81.89729
See the barns on google maps