The story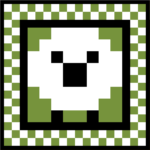 Standing guard over the flock this Ram is surrounded in his pasture with the black fence with checkerboard trim. The original barn quilt block is an adaptation of a modern quilt design. The geometric shapes and green, black and white colour choice make a big impact and can be easily recognized from a distance. The Ram is important as protector and guardian. He always stands out within the flock, towering over the ewes.
Believing the stories of golden opportunity in Upper Canada, Thomas Scane, a Methodist preacher and Elizabeth Scane sailed away from the hardship in Yorkshire England in the year 1818. Seeking a better life, the Scanes, resided for a time at the Talbot Estate, in the employment of Colonel Talbot in Elgin County, eventually settling on a "fine forested property" as described in journals. They were one of only a few families venturing to settle the "heavily forested glacial gravel ridge" now known as Ridgetown in Chatham-Kent in 1822. The Scane side road, so named, attests to the prominence of the family and to the contribution to the settlement in the pursuit of a better life.
Ancestors of the Scane family continue farming with the fourth generation of shepherds calling the farm home. Like the Barn quilt block "Ram on the Ridge" the Brien family remain on this ridge watching over the farm in pursuit of making a better life and community.
Name of sponsor of Barn Quilt : The Brien Family
Location
Ram on the Ridge
12521 Ridge Line, Ridgetown, ON
Latitude : 42.43404, Longitude : -81.89467
See the barns on google maps