February 8, 2020 8:41 pm
Kevin Hryclik, Drone Pilot
Note: Kevin shot the video on the front page of barnquilttrails.ca
I have been flying my drone for a few years. My initial focus was to capture interesting landscapes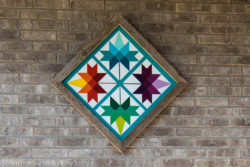 and cityscapes. In the summer of 2016, I discovered barn quilts. We had purchased our first barn quilt for our house porch in London. It was a 2-foot square that featured lilies in the design.
I had a chance to meet the designer, Gardiner's Gate, a few weeks later and suggested it would be fun to fly over the barns where Cheryl had installed barn quilts. I flew seven locations and assembled the video compilations for her to use for business promotion.
The summer of 2017, we decided to fly and photograph the barn quilts in Huron County. Gardiner's Gate had numerous barn quilt orders, thanks in part to the Huron County Barn Quilt Trail promotion and the 100th Anniversary of the International Plowing Match event in that county.
I captured over 14 different farmsteads featuring barn quilts. I am now editing each one as a stand alone video so the owners will have their own short video. The new compilation of Gardiner's Gate barn quilts was published September 2017.
If you have a barn quilt on your farm and you are not in a drone restricted area (call me I can determine)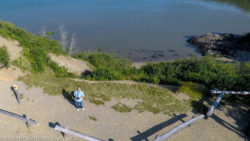 and would like a short fly over video that features your farmstead and barn quilt, give me a call. I can be contacted via e-mail at: [email protected].  Videos can be viewed at my YouTube Channel
.
Categorised in:
This post was written by Mary Simpson