The story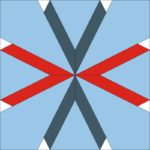 Victory-The end of the War of 1812 came in 1814. While the British kept the Americans from taking British territories, the war left much hardship, damage and loss for the people loyal to Britain.
George Ward suffered great losses to his property, business and personal being. Ward himself was captured and repeatedly attacked as a dispatch rider for the British army. The enemy attempted to hang Ward three times and failed.
George Ward's tavern and home were burned to the ground. His apple orchards were scorched and destroyed. With some compensation from the government, he rebuilt from nothing and replanted his orchard and fields.
The traveler's stop on Longwood's road continued and business expanded as more settlers arrived. The Longwood's road gradually widened and travel became easier.
Location
Victory
Latitude : 42.65245 Longitude : -81.7598
See the barns on google maps