The story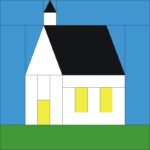 Old Country Church
– The Christian faith was a strong aspect of settlers' lives in the 19th century. When churches were eventually built in the mid 1800s, they served numerous functions.
First, the church was typically the town meeting place. It was a place to discuss matters that affected all members of the community. The church was a site of town politics and debate.
Second, the church functioned as a place of learning. During this time period, churches usually doubled as schoolhouses where children were taught 'the three Rs' (reading, writing, and arithmetic).  Both girls and boys were given access to education. While school was important, children were required to place their homes and family before their education. Often boys would leave school to help on the farm while girls helped their mothers with domestic duties.
Last, the church was a place of worship. Most of the community gathered on Sundays to worship and share fellowship with one another.
Hosted by:
St. Johns Prysbyterian Church.
Location
Old Country Church
21911 Hagerty Road, Wardsville, ON
Latitude : 42.65466 Longitude : -81.75523
See the barns on google maps