The story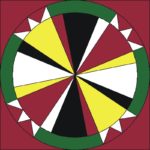 Indian Paintbrush – Delaware First Nations
The Delaware Nation of the Thames were tremendous help in the settlement of the Wardsville region. Newcomer settlers were often aided by native communities in adapting to the region they were living. The Delaware nation taught techniques for fishing, hunting and living on the lands to the settlers. In addition, they were responsible for showing the people proper vegetation and herbs for medicines. The native communities of the area are honoured for sharing their vast knowledge of survival to the new settlers such as George Ward.Many tribes of the First Nations were allies during the War of 1812. The Iroquois Confederacy, Delaware nations and Shawnee were key defenders of the Thames River region and instrumental in stemming off American encroachment.
Click on this link to Indian Paint Brush video (http://youtu.be/smrMz61Iy7Q)
Name of sponsor of Barn Quilt : Hosted by Llse Buhn and Ken Fitt and sponsored by  Wardsville Tire Sales. (http://youtu.be/smrMz61Iy7Q)
Location
Indian Paint Brush
1759 Longwoods Rd., Wardvsille ON.
Latitude : 42.65452 Longitude : -81.75583
See the barns on google maps