The story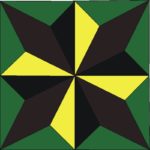 Turkey Tracks represent the abundance of wildlife and vegetation in the area. There were wild turkeys, rabbits, squirrels, ducks and geese. One of the most widely hunted animals in the area was the deer. Deer were not only used for meat but its hide and sinews were used as well.
The Longwood's forest was abundant in vegetation and fruits. There were numerous types of berries to be gathered: strawberries, pin and choke cherries, sugar plums, blueberries, wild grapes and richly flavoured wintergreens.
The native people familiarized settlers with proper herbs and vegetation for consumption and medicinal purposes. Settlers such as George and Margaret Ward were able to treat small-scale ailments with the knowledge conveyed to them by the generous First Nations.
Name of sponsor of Barn Quilt : Hosted by John and Michelle Cameron
Location
Turkey Tracks
 1213 Longwoods Rd., Wardsville ON.
Latitude : 42.63957 Longitude : -81.78364
See the barns on google maps