The story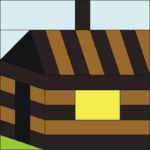 Ward was discharged from the army in 1796. However, the British Army requested that Ward come out of retirement to establish a tavern to aid travelers and soldiers. George Ward's Inn was opened in 1810.
George Ward cleared the land and built his tavern from the materials available. From nothing, Ward constructed two good-sized buildings connected by a hallway. The main building was the Ward family home while the secondary building acted as the Ward tavern and inn.
The inn was a place for fellowship, merriment, and drink. As the settlement expanded, the inn became a central place for news, gossip and meetings. The most important function of the inn was to house weary travelers and, during the war, tired and hungry dispatch riders.
Name of sponsor of Barn Quilt : Hosted and sponsored by McNaughton Family Shopping Centre
Location
George Ward's Inn
22789 Hagerty Road, Newbury ON.
Latitude : 42.67991 Longitude : -81.79183
See the barns on google maps