The story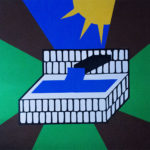 St George became a successful settlement due to the plentiful supply of fresh water. The abundant water made for excellent crop land, especially apples, agriculture and industry.
The well with the greatest volume started on the east side of Main St North, created a stream down to what is not Snowball Park and south of the Village in the creek. Enterprising industrialists looked for sources of water hence dammed up the stream. This pond of water drove the turbines in Snowball Mill (now the Brown Dog Coffee Shop).
Access to the stream was made at the St George Branch of the Royal Canadian Legion on Main St North for many years. People from miles around came to the St George well to collect gallons of fresh clean water, preferring it over the water supplied by their municipal services.
The well was closed around 1990, after the all-day and all-night crowds to the well became disruptive to the neighbours in proximity to the Legion.
Name of sponsor of Barn Quilt : Royal Canadian Legion, St George, Branch #605
Location
Artesian Well
9 Main St N, Saint George, ON
Latitude : 43.24598 Longitude : -80.25404
See the barns on google maps