The story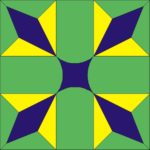 While turkeys have been native to North America and this area, Norman and Florence McWilliam have grown turkeys for commercial purposes at this location for close to 50 years. This tradition
has been continued by Cameron and Anne Marie McWilliam and family.
Point of Interest: The north (closest to the house) half of the barn was once St. Johns, the Church of Scotland. It was moved to this location in 1887 by Peter McPherson to be used as his barn. Significance of Colours: It reminds Anne Marie of the promise of spring and she likes them!
Name of sponsor of Barn Quilt : Cameron and Anne Marie McWilliam
Location
Turkey Tracks
13500 Coyne Rd Dutton/Dunwich, ON
Latitude : 42.68862 Longitude : -81.59129
See the barns on google maps