The story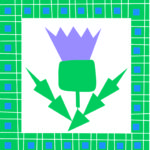 This Scotch Thistle quilt block is hung in recognition of, and appreication for , the pioneers of Scottish Heritage tht settled in the western Elgin area.
The McCallum tartan border is a nod to Bonnie's family who settled in the Crinan area (north of West Lorne). The thistle is also appropriate here, as this farm was owned by the Fraser Famly.
Roy Fraser purchased the Strathcona Creamery in Dutton, in 1906. This is where their Thistle Brand butter was produced. The buttermilk, left over from the buttermaking process, was fed to his pigs housed in the barns on this farm until 1955.
Name of sponsor of Barn Quilt : Mike and Bonnie Rowe
Location
Scotch Thistle
28620 Marsh Line,Dutton, ON
Latitude : 42.64806 Longitude : -81.52306
See the barns on google maps