The story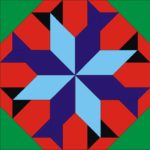 Bounty from the Thames – Fish The native communities along the Thames had always used the Thames River as a source for food and European settlers were able to learn proper fishing techniques from the local native people. In the early 1800s, the bounty of the Thames was a key source of protein for the earliest settlers to the Thames River valley.
Name of sponsor of Barn Quilt : Hosted by John and Christine Johnston
Location
Bounty from the Thames
15611 Morrison Road., Wardsville ON.
Latitude : 42.63831 Longitude : -81.7345
See the barns on google maps