The story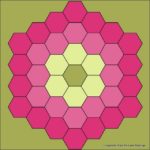 Grandmother's Flower Garden – The hexagon is one of our best-loved and well-known quilt patterns. Brought here by early settlers, Grandmother's Flower Garden reminded them of the beauty of their homeland and the gardens they left behind.
The honeycomb mosaic, always hand-pieced and quilted, reflects our natural world. The flower's centre surrounded by petals, makes use of the smallest scraps of fabric.
Head to Munro's for a bucket of honey or bottle of mead.
Painted by the Glencoe District High School Paint Team
Location
Grandmothers Garden
5338 Longwoods Rd, Appin ON
Latitude : 42.774456 Longitude : -81.605149
See the barns on google maps