The story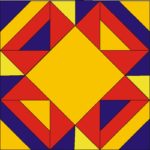 The lore of buried treasure strikes interest and curiosity in people, young and old. We are no exception with this barn quilt depicting the "Treasure Chest" pattern.
Whether the treasure was found or not, no one knows for sure. This is how the story goes. Three men from Toronto bearing, blueprints and maps, came to Morpeth during World War 1. They arrived at a local farm stating that there was a buried chest containing gold or money in the ravine. They agreed to give one quarter of the findings to the farmer and were granted permission to dig. Maps in hand, they headed to the ravine staking out and marking a course. The dig was short as night fell upon them. As the story goes, one man had to return to Toronto that night and they would resume the dig upon his return. The men never returned. The following day the farmer discovered a seven by four foot hole in the ravine. No riches were ever shared.
The original barns burned to the ground in 1943. Built shortly there-after, this barn has served many purposes: housing dairy cattle, a tobacco barn and is now home to horses, chickens and two 4-H dairy heifers. This farm was first settled around 1818 by Israel and Elizabeth Smith. The present house was built in the 1850's.
To us, real treasure is not found in material things, but, in the riches this farm holds historically and in its natural beauty.
Location
Treasure Chest
12693 Talbot Trail, Morpeth, ON
Latitude : 42.39491 Longitude : -81.84014
See the barns on google maps